Mark your agenda! The 26th of January 2019 ASA's new exhibition 28 STARS European Union Art Show will open its doors. Hereby we cordially invite you to join us at the opening and visit the show that's on display till March 16 at GO Gallery Amsterdam. 
Now it's time for the third part of the introduction to the artists of the EU Show. Missed the first and second artist announcement? Check it out here and here!
Poland: M-City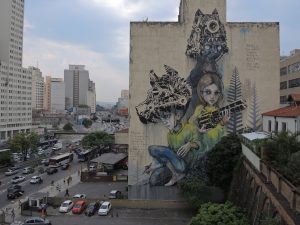 Mariusz Waras aka M-City has a background in graphic design and shares his knowledge and talent as a teacher at the Academy of Art in Szczecin. M-City never sits still. Besides being a street artist and teacher, he's also busy with graphic design, illustrations, building art installations, curating exhibitions and of course, traveling.
Portugal: ADD Fuel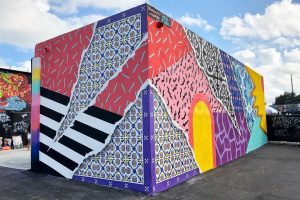 Add Fuel is an artist from Portugal with his very own style. His work is recognizable from far, due to his trademark: tiles that appear to be made of torn paper. His work is colorful, inspired by Portuguese tin-glazed ceramic azulejo and combines various techniques like stencil and building up layers.
Romania: Thè Orion
Thè Orion's little bio on his Instagram is too good not to use: "A self-taught astronomical street artist, fallen from the stars among the pioneers of the Romanian street art scene." His work is enchanting but at the same time has a link to our current (social media) society. A combination that surprisingly enough works very well.
Slovenia: Azram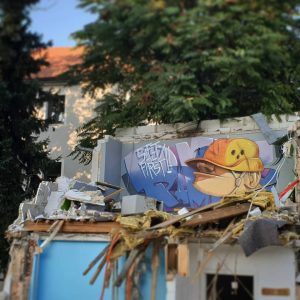 Azram has an illustrative style where he always plays with the proportions of his figures. He gives everyday people a hint of humor and waves to society with the hidden jokes that can be found in his work. Azram's art makes you think and even makes you frown and yet it will leave you with a smile.
Slovakia: Ewilone
A quote from Ewilone is: "Every society gets the type of art it deserves". A quote that makes a great statement, also about his work. Making street art is a way of freedom for Ewilone, doing what he wants and loves to. A nice thing about his style it that is constantly changes, making him a very interesting artist to follow.
Spain: Manomatic
Manomatic believes that his works should touch the public. In which we find he succeeds. Manomatic gives the streets a great vibe with his realistic artworks that resemblance to reality but always have an explosian of color and creativity.
Czech Republic: ChemiS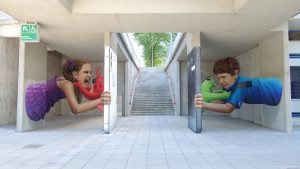 You can often find Chemis' work at places you don't expect it. Like a little (but big) suprise, where his figures tell you an interesting story, with a lot of hidden details. Because of the vibrant colors Chemis uses, his work will never be unnoticed and even let you have a look for a while.
Keep an eye on our website, next week we'll tell you more about the next 7 artists.
In the meantime, check out the Facebook event and attend our show!