Sneaker brand Bucketfeet opened a concept store in the city center of Amsterdam. With their mission to combine sneakers with art, it was a cool and nice opportunity to combine forces.
3 artists painted 3 murals in 3 totally different styles at the Bucketfeet concept store. A colorful and urban experience for the mostly arty visitors of the sneaker shop at the Damrak.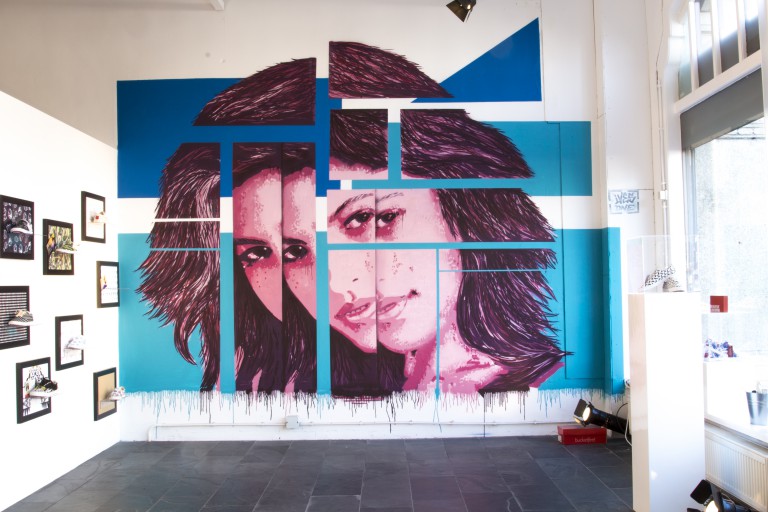 .Company: Bucketfeet.
.Category: Commissioned murals.
.Mission: Curate several colorful murals in this new concept store. Free expression for the participating artists as long as it shows creativity.
.Skills used: Curation, collaboration, design, production.
Would you really like to make an impression? No wall is too big for us, to send out the message you would like to communicate with your brand or product. Challenge our artists to immortalize your message on an exclusive mural.
ASA has a great network of street artists. On our radar, we have both upcoming talents for innovative and affordable expressions as great international artists who can guarantee an international public with their recognizable style on your mural.
Together we can select a wall, building or other object and convert your message into a mood board. Based on the mood board we will set up a shortlist with street artists. For big projects, it is possible to set up a group of artists to jointly implement the project. We will ask them to share their ideas and create some sketches, so we together can make a motivated choice. ASA guides the entire project, from idea to implementation and, if desired, the recording of the process for subsequent communications.
Please fill in the form below if you would like to have more information or if you would like to work with Amsterdam Street Art.