Leave it to Mr. Dheo to make strong portraits in bright colors with often a message to society. For his latest intervention in Porto, Portugal the artist designed a mural that aims to raise awareness about two social problems: racism and xenophobia.
The mural is in collaboration with artist Pariz One. Mr. Dheo and Pariz One have painted two 137,5m2 murals with social awareness messages on the new student residence of Temprano Capital Partners in Porto (Portugal). Of course, I want to know more about the mural and the story behind it!
Hi Mr. Dheo, thank you for your time. Could you please tell me more about the project in Oporto?
Me and Pariz One collaborated with Temprano for the first time two years ago, through the architect José da Quintela, by painting the exterior and lobby walls at the Collegiate building in Lisboa. We kept a good relationship with them and we were looking forward to a second project which finally came last month, so we were really motivated to bring something new and fresh to this location in Porto, as the city was craving for more large murals.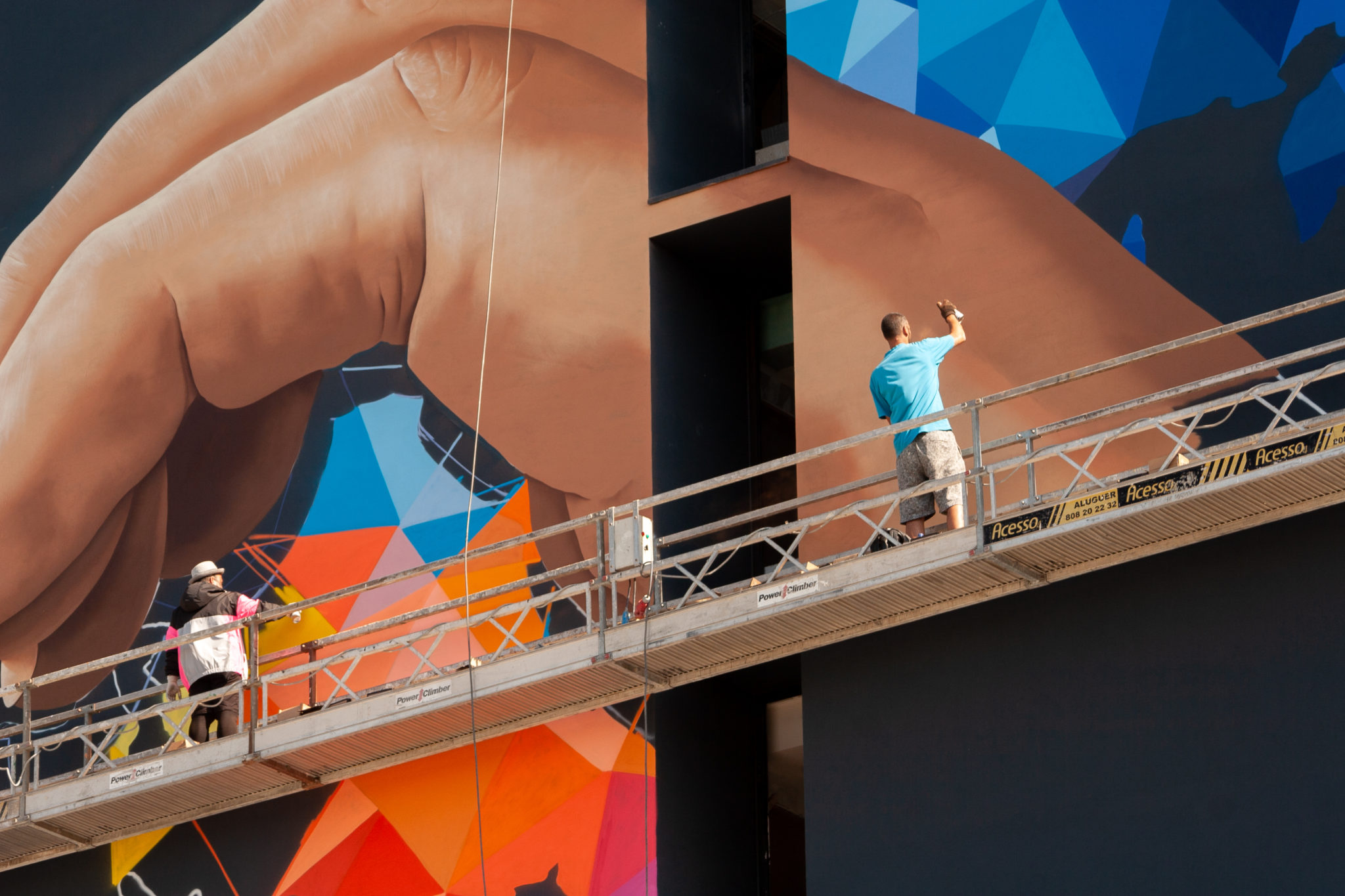 What would you like to tell people with the mural?
We wanted to do something that meant something both for residents as for the general public, and also that could spread a universal strong message in a positive way through its concept and colors. In a world where everything is evolving so quickly, there are some issues that we need to bring awareness to, as it seems that unfortunately we still have to deal with them on a daily basis. We are talking mostly about racism, xenophobia and a huge gap between social classes. In one hand, we wanted to tell the foreign residents that Porto and Portugal will always welcome them in the best way possible and that the student residence is the perfect way for them to make connections, to have a good time and to see this period of their lives as something important and positive for their future. On the other hand, we wanted to send a message for those who pass by the residency that basically tells them "we are all the same". So we have the world map in vivid colors and two hands, clearly with two different races, that together form the shape of a heart.
In what way do you have to deal with those social problems in your daily life?
I truly believe that if you do have positive energy, respect, and kindness with others, you attract the same. I am very lucky to be able to travel all over the world to paint, which gives me the possibility to see reality in a different way. If you think about it, I can be in Dubai this week with all the luxury lifestyle, and next week in a favela in Brasil. I'm absolutely the same person with the same attitude. I've been with kids in Gaza in the middle of a conflict, I've been with kids in one of the world's poorest ghettos in Johannesburg as I've been with kids in exclusive parties in Miami. And you know what? They are all kids. They are all the same. They need the same and they should all have the same. I've seen what some of them they go through with my own eyes so again, what I've been through in my childhood was nothing. I was actually very lucky to be able to grow up in a safe environment, with love from my family, food on the table and clothes to wear. So to answer your question, I think graffiti brought me face to face with the real social problems. And my way to deal with it is to give my very best to each kid, each person, in each situation, coming back home more humble and grateful for what I have.
Mr. Dheo's work often contains a message to society
In your work and captions, you often hint to social media. What's your fascination with social media in our current society?
I'm an active user of social media, I have to be because of what I do. I actually like it. But at the same time, it can be a circus. Either with fake news flowing that easily trick and manipulate half of the world in seconds or with self-made online stars that because of their pretty face or physical attributes are idolized. To me, an influencer is someone that really does something for someone offline. As an artist, social media is a great source of inspiration, and as a street artist that has the power to create something on the streets, available for any kind of public, age or social class, even better.

You're a self-thought artist. How did you learn to make art?
I draw from a very young age but I guess I never took it too seriously until I was 14 or 15, or at least I never imagined I could do art as a grown-up. So I never took art classes, also because I felt I wouldn't be as free as I wanted to be if I had someone telling me what and how to do. I recognize I could be a much better artist at this point, but for some reason, I felt the need to learn by myself and to overcome each challenge I faced on my own. I still struggle with a lot of stuff nowadays because I don't have that background, I never had any help throughout my career, but somehow I like it that way. It's still difficult for me and I think if it became easy one day I wouldn't enjoy it anymore.
I think that's a great statement and also a very inspiring way of thinking. Is there something art-related that's on your bucket list or that you really would like to achieve?
I want to paint a plane. Do you know someone? ?
Well, Mr. Dheo, I don't know someone yet but it would be awesome if you could make that work! Thank you for the interview and for painting such a great mural.