The last details have been put on the walls, the spray cans are empty, 10 amazing & big murals have arisen…If Walls Could Speak is a wrap! 
During If Walls Could Speak 10 international and nationally recognized artists used the Platanenweg as their canvas to create 10 stunning murals. 10 murals with 10 stories, all within the theme: Amsterdam for Everybody. We published the interviews with Kash & Chuck and Julieta XLF and now it's time for…
DOPIE
Dopie is a Dutch artist who highly developed himself in portraying all kinds of animals. His work is colorful and powerful, but also accessible for those new to street art. For If Walls Could Speak he made a hybrid of an Amsterdam city sparrow and a bright green parakeet. The city sparrow has been found in Amsterdam for many years whilst the wild parakeet settled down and spread after someone released his parakeet pet.
For Dopie the two birds portray what Amsterdam for Everybody means to him: freedom and lust for life. Both birds are perky and stand for the Amsterdam combination of nature and urban life.
Dopie is what you call "the silent power". Every time I have a look at his wall, I'm impressed with how easily the gigantic bird is coming to life. Dopie seems to be completely included in his work and even when he is working on the top part of the wall, you can feel his passion and proud for the work he's making.
When we sit down for an interview, Dopie tells me something I'm surprised about. Part of the reason he's working so hard and barely coms down for a drink is because of his fear of heights. I'm so glad his passion for creating the art he makes, stands above his fear.
"I'm very happy with how my work turned out. I also couldn't ask for a better location for my design, as the bird cheeky peeks through the trees when you approach it."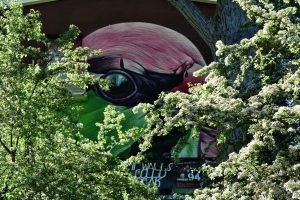 "I like to work from high to low, almost as a system. Because I have fear of heights, I try to avoid as much as possible that I have to go up and down all the time with the platform." Even though Dopie makes several large scale and high murals a year, his fear of heights doesn't get less. "But once I'm up high and focused on my work, it gets less. The moment I'm working on the details, I enjoy it so much that I almost forget that I'm 15 meters above the ground. And even though it wasn't my favorite part to climb up the balconies, I'm happy I also painted the edges of the windows, it makes the artwork complete."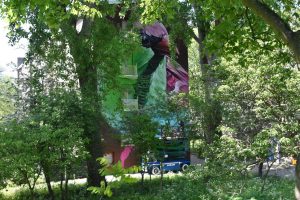 "Growing up in Amsterdam learned me that Amsterdam for Everybody is everywhere in this city. At school, when I was younger, everyone accepted each other. It didn't matter what your background was, what kind of clothes you wore, what kind of music you listened to, what kind of scene you were part of… growing up with that acceptance was what I really liked here in Amsterdam. Amsterdam is free, openminded, everything is possible here. Now I don't live in Amsterdam anymore, I appreciate the city in a different way. But I do miss the vibe that used to prevail."
"I love working freestyle as I did with this bird. I use a photo for the basic shape of what I'm making, but the rest I freestyle and fill in the way that I think suits best. The fact that I didn't feel any boundaries at all within the theme worked out very well. The natural environment of the wall fits well with my design, I couldn't ask for more."
"When I freestyle, I always make animals. And contrary to what everyone thinks, I don't have a favorite animal to paint. Every type of animal comes with a different challenge. With reptiles it's the thick skin with relievo, mammals and predators have an interesting body posture and fur and birds have their feathers that can be painted in different ways. So I like to vary in the type of animal I make, but I don't have a favorite."
"Wat komt aanvliegen van ver of dichtbij, de mus of halsbandparkiet, in Amsterdam horen we er allemaal bij"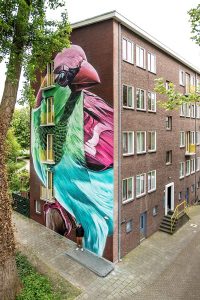 "Being part of If Walls Could Speak was very nice. I'm selective in the projects I do because I want to keep it special. There used to be a few murals made by me in Amsterdam, but as the years passed by, they disappeared. So I'm very happy I have my work in Amsterdam again! And, as I said before, the fact that the location suited my work was a big plus as well. And of course, I also prefer to make work that stays permanently. Working on a piece like this keeps my busy 24 hours a day. I want to perfect it all the time and at night I'm thinking about what I can do to make it even better. But I don't mind, it's what I love about being an artist. Challenging yourself and then being proud of the end result."
Do you love Dopie's work too? Follow him on Instagram and Facebook.