People tend to forget that great artists had to put in countless of hours and dedication to master their craft and skill so that we can enjoy their artwork. In Amsterdam Street Art's latest blog series:"My life in pieces", we're taking a deep-dive into the artist's portfolio and ask them which art pieces have a significant meaning for them and their career.Today we're meeting up with Djoels.
Biography
Djoels (1993) grew up in Meulebeke, a small town in the West-Flemish part of Belgium, where she described her childhood as rough and secluded. She got introduced to the tattoo scene at age 7 after a friend took her along with him to a studio.
From that point in life, she knew that she wanted to be a tattoo artist.She began drawing tattoo designs and graffiti lettering to cope with the fact that she got dealt a shitty hand at the start of her life, all while seeking comfort in the music of rap-artist Eminem. At age 19 she finally got the opportunity to take on an apprenticeship at a tattoo studio and use the human skin as a canvas. Around that time she invested her hard earned money into spray cans so she could spend more time on her graffiti.
She got in contact with the graffiti crew "Lostflammos"  who helped develop her style and technique what later on made her transfer from lettering to realism.In 2017 she took part as a contestant in the Dutch/Belgian adaptation of the spike-tv hit show: InkMaster, where she had to perform various styles of art and tattooing. Not only did it give her a gigantic boost in exposure when she won the first edition of the show, it also gave her the recognition for all the hard work and dedication into creating her art.



Piece number 1
"This was my first time creating a portrait with the help of my friend Jeps. In fact, he helped me a lot throughout my career to become a better artist. I chose to do a portrait of Eminem because I'm in love with his music and it has a special place in my heart".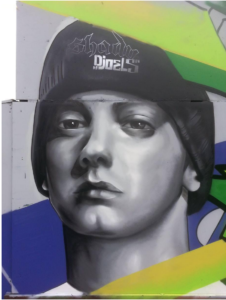 Piece number 2
"This was the first color portrait I ever did and you know what's weird? I found it easier to use colors than to do black and grey, usually, it's the other way around. Again with the expertise of my good friend Jeps during a graffiti event in Kortrijk, home base of LostFlammos".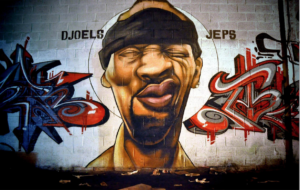 Piece number 3
"I created this piece in collaboration with another crewmember, Jupla, and it was the first time experimenting with transparent effect. On a side note, it was my biggest piece I've ever made back then" (4m high!)

Piece number 3
"I don't always find the time to paint due to my busy life in the tattoo studio so I'd rather paint something I really want on a Sunday afternoon than to paint a kids room that is commissioned for example. This cafe in Waregem was one of the few commissions that gave me complete freedom which was nice. The city is known for its horse racing so evidently, I painted this piece, again playing with the transparency and composition".

Piece number 4
"The previous piece about horses blew up on Facebook, giving me more exposure to my graffiti work. Pukkelpop, a big Belgian festival, reached out to me and asked if I wanted to do a wall during their festival. I felt so proud and a bit nervous because Pukkelpop is a big thing and I find this one of the prettiest pieces I did".

Piece 5
"The last piece I'm proud of and a fun event in general. It was a small event with the LostFlammos crew and it made me realise I need to make more free time for graffiti because it's another passion of mine".

Like Djoels on Facebook click here – Check out the new selection of ASA Prints here
Stay tuned for next week's edition of "My life in pieces".