The last details have been put on the walls, the spray cans are empty, 10 amazing & big murals have arose…If Walls Could Speak is a wrap! 
During If Walls Could Speak 10 international and nationally recognised artists used the Platanenweg as their canvas to create 10 stunning murals. 10 murals with 10 stories, all within the theme: Amsterdam for Everybody.
First in the line-up: Kash & Chuck
Dutch Kash & Chuck both started with graffiti many years ago. We wanted a wall that included this art style, after all the precursor of street art. For us, no one could do that better than this duo. The result is overwhelming. Kash & Chuck managed to paint the biggest coat of arms of Amsterdam, in the entire world! Nothing stands stronger for the theme Amsterdam for Everybody. And as Kash & Chuck say: het wapen verbroedert (the coat of arms fraternizes).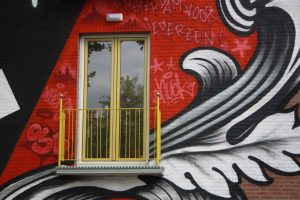 "Because we are allready working in the scene for such a long time, we know what we are capable of. A wall like this, we designed it on a post-it." explains Chuck. "But seeing the result on such a huge scale; I'm a bit overwhelemd my self to be honest." tells Kash. It's the biggest wall they have done so far. "Making the coat of arms of Amsterdam on such a big mural (10×15 meters) is very different from doing the grafitti pieces we usually do. We feel honored. The dimensions and proportions need to be exactly right. Beginning with the coat of arms and later on filling it in with our typical grafitti style, really combines best of both worlds."
During If Walls Could Speak I get to know Kash & Chuck better. They are a pleasure to hang around with, and you can tell from the way they work and talk how much they love the grafitti scene: "We are grafitti pur-sang. We always want to pop. If we paint a wall or a door and someones quickly passes or drives by, the work needs to pop. It needs to stand out and gain attention. We're used to the fact that people see our work as a snapshot. But if it's a snapshot of a piece you've been working on for hours and the person who sees it just gets a flash of it for two seconds, you want it to be overwhelming. If it doesn't pop, it doesn't work. That's the reason our color palette is always so bright." What they explain me, definitely shows in the work we are standing across from: "Especially with the coat of arms, the colors are super contrasting. It's recognizable, everyone knows what it is. Pure red, pure black, pure white. It shouts Amsterdam." The first idea for a mural design when Kash & Chuck were approached to join the festival, was totaly different from the result we can now enjoy. Because of the balconies popping out the wall they had to change their first concept. It's called killing your darlings, but the circumstances resulted in the biggest coat of arms of Amsterdam. Just as If Walls Could Speak, a first in Amsterdam.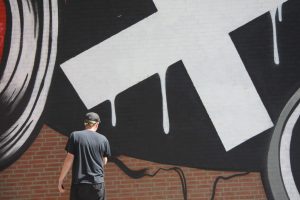 The design might look quit simple. But Kash & Chuck definitely didn't choose the easiest way by putting the coat of arms diagonal on the wall. Making the Amsterdam crosses perfect, asks for precision.
"Het wapen verbroedert"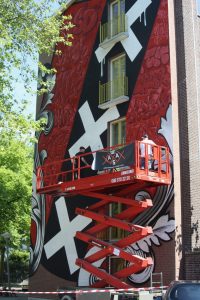 There's a reason I'm impressed by the final mural but also why people passing-by raise their thumbs up: "Wherever you're from, if you live in Amsterdam or visit the city, you will always see this symbol. It's everywhere. Everyone who passes by, is stunned, amazed. It's like everyone who's passing our mural shares the same proud of Amsterdam as we do. Because when you live here, you are proud to live in Amsterdam. It's our Amsterdam. We feel honorded to add this to our city. Even if you arrive from a distance, you can see the bright red color shining at you."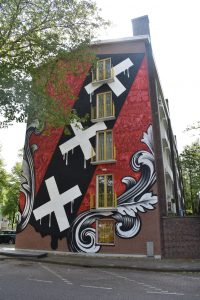 The location of Kash & Chuck's mural on the Platanenweg, has been chosen for a reason. It's the wall closest to the city center, the place where it all started for both Kash & Chuck as the grafitti scene. We wanted to place this specific mural as close to its roots as possible. The result? The biggest coat of arms combined with grafitti, by grafitti artists pur-sang. What's not to be proud of?
Check out more work from Chuck on his Instagram and Facebook
And don't forget to have a look at Kash his Instagram and Facebook
All pictures by Lewis Duncan