ARTRIUM is an open-air contemporary art gallery in the center of Moscow, on the walls of the Atrium Mall. A great, new addition to the Moscow street art scene with an impressive artist selection.
The Artrium project was born a year ago. The brain child of team Atrium and team Gumball 3000, it brought together 11 renowned names from the global street art scene. For the first time in their careers' Shepard Fairey, Felipe Pantone, Tristan Eaton, Ben Eine, PichiAvo, Okuda San Miguel, Pokras Lampas, Faith47, WK Interact, Faust, Haculla were challenged to create on the façade of the same building.
Over the course of 4 months, the walls of Moscow's Atrium Mall were transformed into a sprawling canvas of unbridled artistic expression. As a result, the location has now become Moscow's primary street art destination, drawing thousands of spectators and art lovers on a daily basis. Artrium's mission is to acquaint the public with current street art from around the world and to inspire a creative environment for new cultural exploits.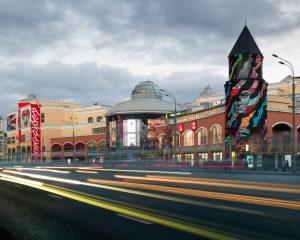 Shepard Fairey: "The true vocation of art is to serve as an open means of expression, communication, and empowerment, focus on a wide audience, and not only on high-brow connoisseurs and frequent visitors to galleries and museums. Every day on the facade of the Atrium, thousands of people see works of art whose images and slogans make you think — this is the real role of art."
Have a look who created the amazing murals at Artrium:
One of the most influential and recognizable street artists of the planet, the author of graffiti Obey and Hope. His Moscow work is inspired by the famous Brecht slogan: "Art is not a mirror reflecting reality, but a hammer that forges it." This is his first large scale work in Russia.
An artist whose works are easily recognizable by "fragmented" geometric compositions with bright color accents. In addition to painting on the facade, Pantone created his first public art object — a 24-meter installation "Data Fountain" located in the central hall of the Atrium. This installation is one of the largest sculptures of 2018.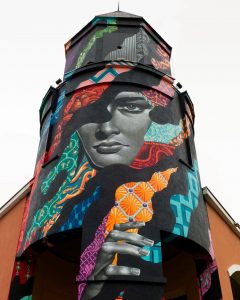 Known for his unique aesthetic that blends elements of Pop culture, Eaton has been a favorite of New York's MoMA curators for a while. He has completed two large scale works at Artrium. The first is a massive portrait of a futuristic spaceman, the second, a sprawling spire that showcases a woman's portrait, fused with classical Russian cultural elements.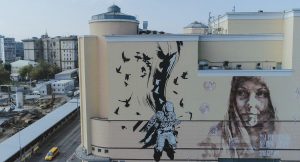 A New York-based French artist who adheres to the status of incognito and does not advertise his real name. One of his most famous works — Brave — is dedicated to the 10th anniversary of the terrorist attacks of September 11 in the United States. As part of Artrium, WK Interact created the mural of 4 PEACE.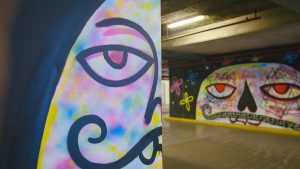 Professional skater and fashion designer, Haculla, the most traditional and most brutal street art artist in the Artrium collection. His style of "keep going till they catch you" is literally imbued with the spirit of the streets of New York, and the work is performed according to the classical laws of the genre. Today, his creations and paintings are sold in the most elite areas of world megacities, and you can see his painting in Moscow on the exit of the underground parking lot of Atrium.
Calligrafuturist and the only Russian participant in the project, Pokras Lampas created a piece titled "Maze of the Atrium" located at the main entrance to the building. According to the author's artistic plan, this part of the building is presented as a rhythmic architectural form, resembling a labyrinth, in the very heart of this microcosm, people from all over the world meet with various cultural codes and stories. The painting hides the keywords that unite us all: ĤØᑭΣ / Ł0ƲΣ / ÇᖇΞА卞Σ 'Hope, Love, Create'.
PICHIAVO – FAITH HOPE LOVE
The Spanish duo of artists is the authors of the work "Faith. Hope. Love". The images of the god Eros, the god of love, and his muses of beauty and art seem to remind us that there is no beauty without love in the eyes of those who contemplate it.
BEN EINE – MOSCOW MOSCOW & THE GREATER GOOD
Besides the fact that Ben Eine has worked side by side with Banksy for over 10 years, he is one of the most successful street artists, a pioneer in the study of letterforms. His bright typographic style is designed to show that street art is different from graffiti. He believes that "street artists want to add something to the environment. They have regard for their viewers.". For Artrium, Ben created two walls, one spells: "Moscow Moscow", the second: "The Greater Good."
OKUDA – FREE LOVE
Okuda is one of the most prolific public art artists of our time, known for his unique polygonal technique in the form of multi-colored geometric shapes and patterns. His work can be found around the world and not only on walls. Okuda works a lot with entire buildings and interiors, complementing the painting with his own sculptures. One of his most large-scale and famous works is the abandoned Spanish church named the Temple of Chaos, which has become a new icon of modern art. For Artrium Okuda created a massive corner piece entitled: "Free Love".
FAITH47 – WITHIN ME YOU AWOKE THE LONG FORGOTTEN
The world-famous artist, originally from South Africa, currently lives and works in Los Angeles. In her work, she is trying to disarm the strategies of global politics, protecting everyone's right to personal freedom. Faith47 works with various forms and tasks, including projection mapping, video installations, printing, and drawings.
FAUST – KEEP YOUR WORD
Faust is an innovative and influential graffiti artist from New York. He became recognizable by integrating classic design elements into modern urban aesthetics, challenging how most people see and perceive graffiti.
Faust was named one of the top 20 graffiti artists you need to know right now, according to Juxtapoz magazine, New Yorker's published his works in Stars of Calligraphy, and Paper Magazine named him among the most influential young artists in New York. For Artrium, Faust created his first work in Russian, it reads: Держи Слово, "Keep Your Word."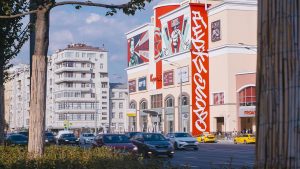 The Artrium project is supported by Moscow's Department of Culture and is intended to serve as an unspoken element in urban navigation.
A short 3 min video, directed by Georgy Tarasov, showcases the artists and their works. You can preview the video here https://youtu.be/FCx_V7BYpnY. It is intended as a teaser for a longer film created by UK's Tupman Brothers, in collaboration with Chop Em Down films and Cameraptor, set to premier end of May.
Starting from June, Artrium will host a new wave of artists. Names of participants will be announced on a weekly basis on Artrium's Instagram.
Read more about all the works on www.artriummoscow.com
Current news about the project www.instagram.com/artriummoscow/