As mentioned in our first interview with Hong Kong artist Bao Ho, street art is an international movement and is becoming a major trend in Asia. Within our second interview, we continue to interview artists from the Hong Kong street art scene. We had the pleasure to interview local artist Boms who shared with us his feelings, his working process and his universe.
Meet Boms!
Boms is a Hong Kong based street artist, graffiti writer and b-boy. His early works focus on acrylic on canvas. His interest started to grow on street dancing in 2008 and he became deeply influenced by the hip-hop culture. He devoted himself to mural creation since he had his first taste of graffiti. Hong Kong local stories are a common theme among his creations. By transforming feelings into imaginary characters and words, each character that drops from his brush becomes an emotion. Such a crazy world but an honest one in which Boms lives.
Hi Boms! Can you please tell us more about your art background and how you came to street art?
I love to paint since I was a little boy, my early works are all about acrylic on canvas paintings as these were the easiest media that I could reach at that time. Until my interest started to grow on break dancing in 2008 and I became deeply influenced by hip-hop culture. In 2014, I met my homie Felis, and he brought me to the Hong Kong graffiti scene. Then I started to use the spray can and keep exploring other different media for my art till now.
You also do graffiti. How long have you been doing it? What do you like the most about it?
I've been doing graffiti for 5 years. My favorite part of graffiti is that it's raw and down to earth. It's also some kind of connection between me and the city that I can literally see, it reminds me where I'm from.
Your work has been exhibited several times in Hong Kong. Can you tell us more about your universe?
My universe is like telling people how I see the world. Loads of things are happening around the city every day, people got different ways to express their emotions. My way is to be visualizing my feelings and turn them into characters. Every one of them got a part of my soul and will grow up with me. Back in the days, when I was still working in a design agency, bad things happened every day. It made me feel stressed, angry and depressed. Like a bomb that can not literally explode. I think it's not only me but everyone around this city, it's causes me to create my core character BOMS a.k.a. Ar Jar (Jar, the pronunciation of "explode" in Cantonese). Ar Jar is a spiritual monster that was born in negative energy. Everyone in the city has a BOMS in their mind. They usually stick together and share one set of limbs that they can't control and they don't know where they go.
But there are some exceptions who escape from the group and he is one of them. Till now Ar Jar is getting more and more friends, brothers and sisters, and that makes me realize that they need a place for living. So I started to visualize their landscape recently. I am such a greedy guy on my creations, so I hope my entire life is long enough to project their world through different media!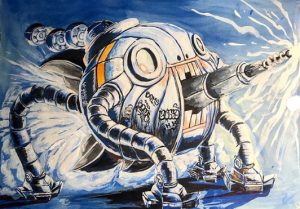 How do you make your work on canvas? What is the process? Does the big presence of black and white has a signification?
I'm always thinking weird stuff, like what if a caterpillar was feeling sad? What if I drop my graffiti throw up on a transport cool like a time machine?  What if a 5.5-ton truck turns into a monster because the truck driver is getting mad on the traffic? Once I asked myself "what if", then I will try to figure it out by doing sketches. How do they look like? What are they doing, etc. Once I know what is happening in the scene, I will start a canvas. Black and white are the roots of all my ideas, the structure of the character, the texture and the personality. I also love to add words to the background to describe more about the scene. Black and white is also my way to practice my hand, the shades and the line quality. Every piece to me is a process. That's why I said my characters are growing up with me.
We also see a lot of Chinese calligraphy in your work which is known to be an art in itself. Did you learn it from a teacher? How do you practice it? What are the meanings of this calligraphy in your work?
I will call it "hand style" instead of "calligraphy". Calligraphy has a long history, especially the traditional one. I didn't learn it from any teacher. The reason why I'm doing Chinese lettering is from the same roots of "tagging" from the graffiti scene. I didn't pick up anything related to writing until I got fascinated by the flow on all those street writers. I think calligraphy or a good hand style writing could bring your eyes to travel on its lines, as any other form of art such as dancers that got their flow, or rappers and singers that got another form of flow.
It's also a kind of tribute to two of my favorite local writers and internationally known original old kings, the King of Kowloon (九龍皇帝) and the King of Pump (渠王). Although they were not doing graffiti, they did have the spirit of graffiti and brought Chinese lettering to the streets. The way they wrote has become one of the most important local elements in my work to me.
That's why I think I should develop my own hand style in Chinese. I started with the regular script copybook, which is the first Chinese calligraphy script that I've learned in my high school art lesson, the Clerical script (隸書). To get familiar with the form, proportion and the stroke order of every Chinese character. Then I try to visualize my flow according to the character stroke order. I think English calligraphy has inspired me a lot at this point, the way they link up those letters. Like my imaginary characters, my hand style writing is still in process. I hope I can proudly call it "calligraphy" one day!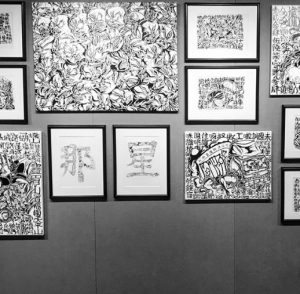 I saw recently you made commissioned walls. Can you tell us more about it and how you worked on these projects?
I think the most important thing about doing commissions is to take balance. What I've learned the most in the commercial design world is how to work with different people. I understand that the client has a lot to concern about instead of just having concerns about the visuals. In most of the situations in the Hong Kong design industry "The client is always correct" counts. I don't think this is the right attitude for a good design or a good visual. That's why I quit and became a freelancer and try to find the balance point by myself. I'll usually divide into 3 stages for a commissioned wall: pencil sketch, color sketch and paint on the wall. I try to take the balance between my creation and the client needs, and make sure I'm in sync with the client throughout the back and forth progress. It's like another form of communication. Of course, I still need to twist myself sometimes, but I believe I can do it better and better. Doing commissions is another subject for me to study, it's like a lesson to make my artwork usable.
Overall, what do you like the most: wall or canvas?
Straight-up wall. Or I should say a wall that I can do without any boundary, stay and paint for a long time, instead of just paint for a few hours and then run. I think a wall is big enough for me to tell a better story. Also, the distance between a wall and the audience is always closer than a canvas. I like an artwork that people can interact with, rather than just a painting hanging on the wall. But I love canvas too, it is an important process to my idea, to spend time painting, thinking, and exploring things.
Thank you Boms for sharing with us your honest great universe and approach of art!