The last details have been put on the walls, the spray cans are empty, 10 amazing & big murals have arisen…If Walls Could Speak is a wrap! 
During If Walls Could Speak 10 international and nationally recognized artists used the Platanenweg as their canvas to create 10 stunning murals. 10 murals with 10 stories, all within the theme: Amsterdam for Everybody. Yesterday we published the interview with Kash & Chuck and now it's time for…
Julieta XLF
We talk with Julieta the moment her mural at If Walls Could Speak is finished. No surprise; she's a bit tired after the hard work, but also happy and satisfied with the result. And we can see why! The title of Julieta XLF's work is: "Wherever you come from, here you are welcome." The mural is unmistakably made by Julieta. The lovely, infantile figures are characteristic of her style and within the If Walls Could Speak theme "Amsterdam for Everybody" they tell a little story and show many details.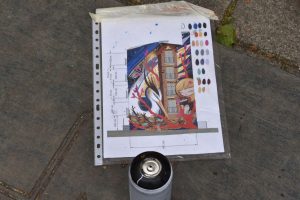 "For me, Amsterdam for Everybody means WELCOME. It doesn't matter where you come from or who you are, there is always a place for you. Just like myself, I felt very welcome to Amsterdam." Julieta tells. "I made an illustration where a girl is giving a welcome to a migratory bird, and the migratory bird is also sharing its nest with the girl. They are both sharing place, house, nest…love. It's necessary to imagine a world without boundaries -where we can move like migratory birds- to make it happen, don't you think?" It sounds like the perfect world. A world where Julieta can easily take you to with her beautiful work. The details are stunning; the heart the little girl is holding in her hands, the flash of the universe top left, the way she incorporated the balconies into her work.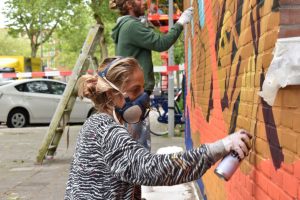 "I really liked the experience, how the ASA team has taken care of us, the good vibes of the people, the organization, the positive reactions of neighbors passing by, my friends and artists. Even the sun was shining every day! I'm also very thankful that you had me on board and gave me the chance to share this experience with artists whose work I admire for a long time."
"I like both working to a theme like this as freestyling. If the theme can be interpreted open-minded, like this one. If I don't have a theme I always do research of the place and find something to connect my work to within the place it's going to be. I also did that with this mural as the theme is so specific to the location of course."
To the question, if she enjoys working in such a close-knit festival surrounded by other artists, Julieta answers enthusiastically: "Sure! This has been the best. I always want to see how other artists work and have the chance to talk to them, but usually, that's not possible. Also the fact that the team was always around to help. All together is better  ;)"
"Wherever you come from, here you are welcome"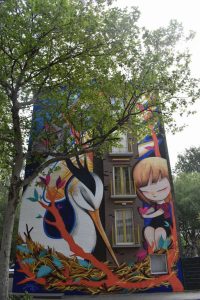 What's next for Julieta? "I'm going to France in June for live painting and a mural at the University of Perpignan for its Ecopoetic Seminar and after that, I'll go to the  Street Art Festival in Grenoble. I'm very excited! July maybe Greece and September to Serbia where I'll be part of Festival Rekonstrukcija."
Thank you, Julieta, for bringing your spark to Amsterdam!
Also, don't forget to check out Julieta XLF's website, Instagram and Facebook.