One of those nights, quiet, late and overcast. This night it was a bit extra shitty – cold and wet. It was like February the 14th, not exactly summer anywhere in the northern hemisphere. The message ticked in, as so many times before: "We are hitting the town tonight! Rendezvous at … So if u wanna come. See u!"
It was one of these projects shy of the law. They always make your ticker, tick-tack extra. Now, what u might not know is that I'm a member of NJ. That is Norsk Journalistlag (Norwegian Journalist union), which again means that I have a press card. Which again means that I can watch and shoot … that is document … the stuff. That night it came handy!
We meet at the designated rendezvous, went over to the old gas station at Landås, one of these areas here in Bergen, Norway. SLAPP started working on the wall, it was a past-up called "Valentine's day". It makes sense since it was Valentine's day – well Valentines' night to be correct.
All good!
We went over to the next wall, a bit further up the road.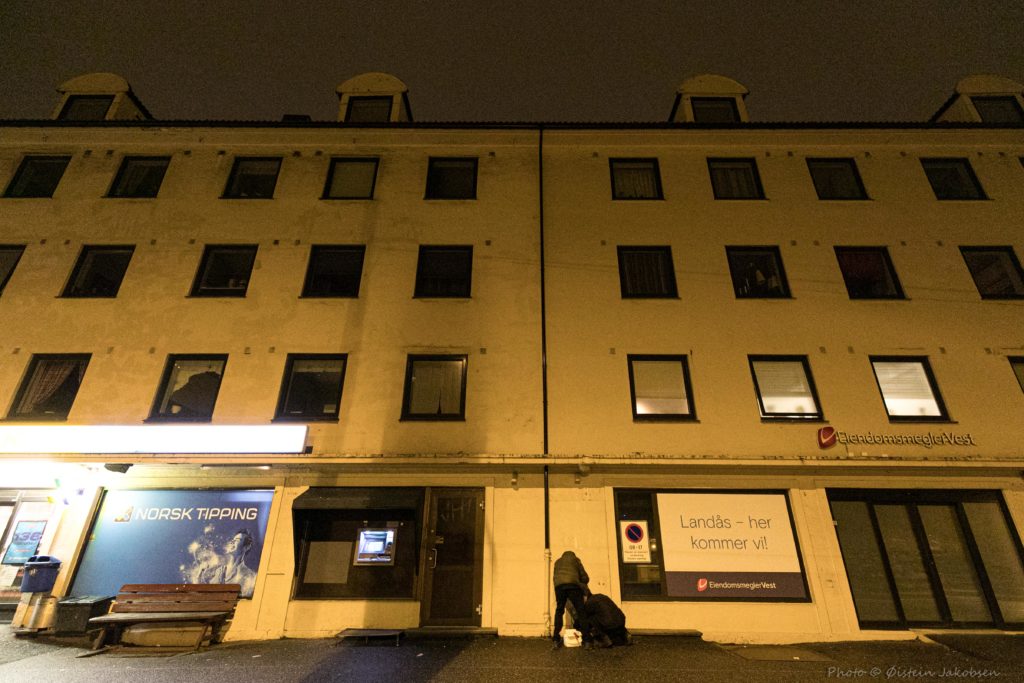 As things developed a lucky by-passer had joined now the crowd. Not often that the public gets to see full-blown street artists doing their thing on the shy side. Not often street artists have spectators in the middle of the night. It is however pretty common that I am there
… documenting for the history books
Then all hell breaks loose!
I was standing next to the road at "Lykkeboden", the local gambler joint, with my cameras all set for shooting night shots. A car pulls up. In the corner of my eyes, I see… white and safety yellow.

Wobs! F**k! The shit is about to hit the fan!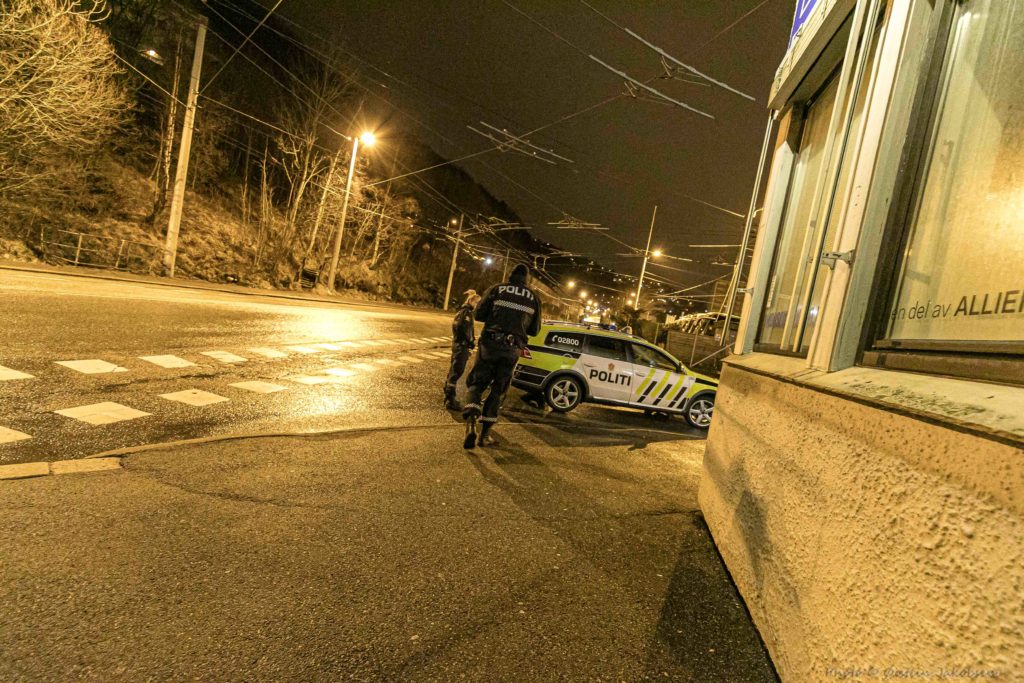 First officer jumps out and went for me. I was in rain gear, top to toe, my press card was in the inner pocket of my pants. So shivering hands went looking for it… took me some time, with my cold as hell hands. Was my heart ticking? Shit, I had adrenaline out my ears.
Never been in that situation before. Did that f**king card they sent me even… work?
SLAPP, doing the wall, the one behind me and the officer, caught a glimpse of what was going on… no time to loos,… long legs and arms went spinning in all directions. The officer? He was happy enough to catch the person with all on the camera! His eyes went from bright to somewhat murky when he called the station, and they confirmed that the number on my card was legit.
Not just a street art photographer, but a f**king journalist!
Reading his mind, I was… Not much he could do about that.
So three police cars, five officers including a K9 patrol, were spinning around the neighborhood chasing those in front. They caught the now unhappy, unfortunate by-passer, as they thought she was one of the artists. Poor woman… she didn't know a thing.
They took her into their patroller and interrogated her for more than an hour.
She had the night of her life, never to be forgotten I presume.
What happens next is like out of this world. The phone rings as I am watching the action.
Both cameras on "night mood" so I was ready, ready to shoot. Did I?
… judge yourself.
The voice on the phone is SLAPP, informs me that they have taken down the first past-up. It was a cold, wet night so the glue had not dried on "Valentine's day". Then one of the officers comes over to me and we talk, nice conversation, told me that he had AFK (local street artist) on his living room wall. Then the first officer comes over and says he is heading over to the gas station, to take pictures of the piece. Evidence of the crime! As he starts walking, I turn to the officer next to me and say… "If he was a nice as you I could have told him that it is gone" We smile at one another.
The officer returns from the scene of the crime, this time even murkier, then when he discovered I was the holder of a press card.
The unfortunate bystander is let loose, from the arms of public safety, and head of into the night. I head back to the spot where it all began, to shoot the now empty wall, for the records. And f**uck what do u know – I first see it when I process the pictures in my machine – SLAPP as taken down the past-up, that we know from the phone call, but SLAPP being SLAPP – has painted with glue on the wall next to the piece, the piece, but with glue. Can hardly be seen in broad daylight, you can get a glimpse of it when it rains. Then it shines – "Valentine's day" by SLAPP in glue.
I have waited long to tell this story. The trigger came when I visited KGalleri the other day and there it was "Valentine's day" by SLAPP. This time, framed and for sale. It can be yours if u hurry! And now u know the story of SLAPP's "Valentine's Day" – the original one.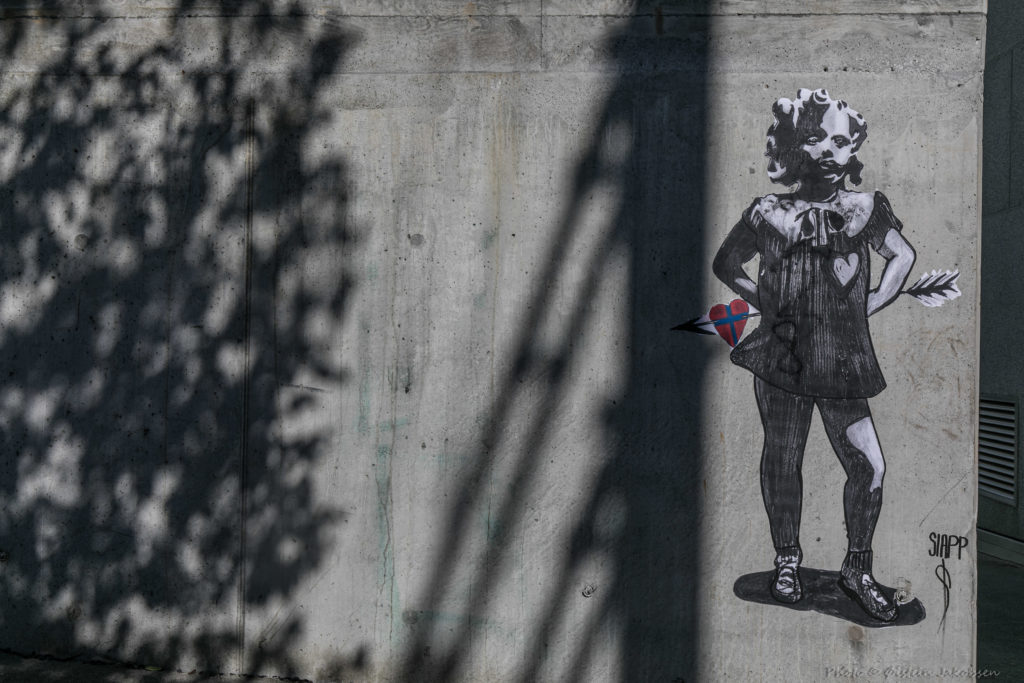 SLAPP made another one, that can be seen in broad daylight, even today. Was documenting, that one too. No police, no chase, no running that time. Just smooth it went. It can be seen at one of the walls of Kronstad DPS (south), where you cross between the building heading for the soccer field.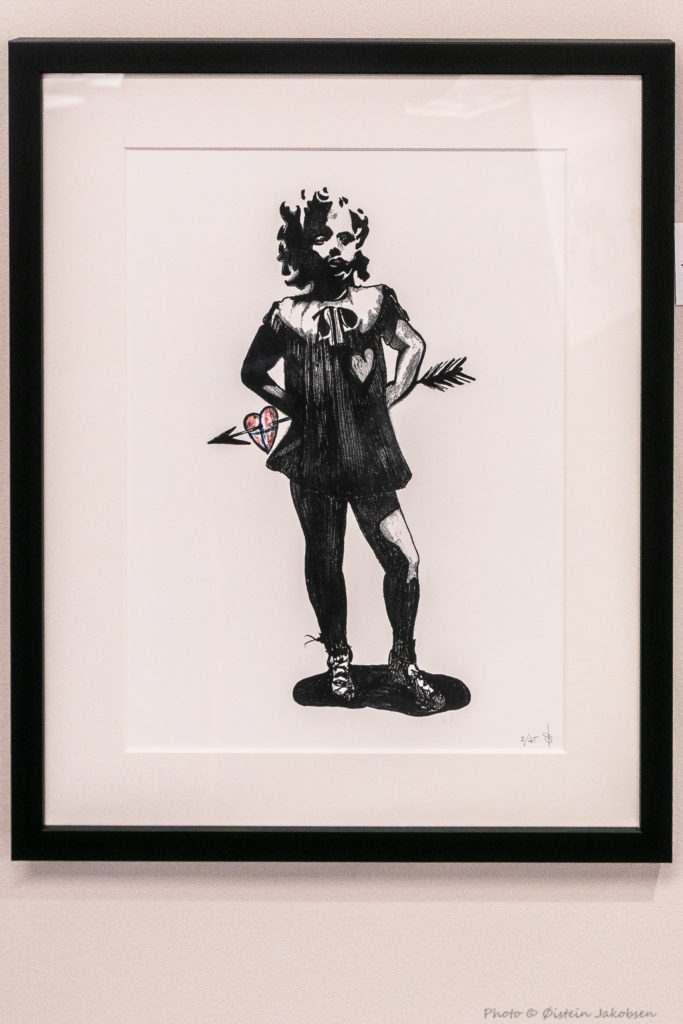 So… now u know
It's in the history books for the grandkids to be told.
Text and pics all by Øistein Jakobsen from StreetArt Bergen.