The last details have been put on the walls, the spray cans are empty, 10 amazing & big murals have arisen…If Walls Could Speak is a wrap! 
During If Walls Could Speak 10 international and nationally recognized artists used the Platanenweg as their canvas to create 10 stunning murals. 10 murals with 10 stories, all within the theme: Amsterdam for Everybody. After the If Walls Could Speak interviews with Kash & Chuck, Julieta XLF and Dopie it's time for…
Studio Giftig
"A floating woman in a dove colored cloth, blending with pigeons, whereby the pigeons are used as a symbol for freedom and the city of Amsterdam."
Dutch duo Studio Giftig conquers the Netherlands and soon the world with their photo-realistic work. They always photograph their own models, resulting in a picture-perfect style. They are true public favorites. If Walls Could Speak resulted in a wide variety of stories within the theme 'Amsterdam for Everybody'. But the artists have one thing in common: for them Amsterdam stands for freedom, believing in yourself, nostalgia and fraternization.
For the duo, freedom stands out the most in this list. The first thing they think about when you say Amsterdam? "Freedom and pigeons! Wherever you walk in Amsterdam, especially when it's around the city center, you see pigeons. They are part of the city and at the same time they stand for freedom, another aspect that we associate with Amsterdam."
"The theme Amsterdam for Everybody to us means Freedom for each individual in each possible way. We brought together these two typically Amsterdam associations together in one design. We painted a floating woman in a dove colored cloth, floating among the pigeons. The pigeons stand as a symbol of freedom and the city of Amsterdam. The floating lady resembles the same. Because she is floating, she is not attached to any obligations or expectations. She feels one with the pigeons and slowly takes on their color."
"The nice thing about the theme was that it really appealed to us. It gave us the artistic freedom to approach it in our own way, we could make a mural in our own style and tell the story we wanted to tell."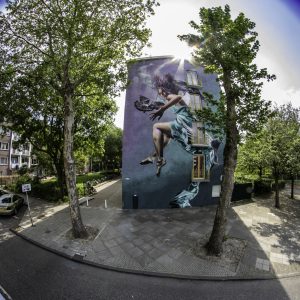 "Being part of a festival like this was amazing. We had a great time with old friends and we met awesome new people and artists. The sun was shining every day, the reactions of people passing by were great and all in all, the whole vibe was amazing. And a big advantage of working together with a big team on such a project is meeting other artists and see how they work which is always inspiring."
Studio Giftig is going to have an awesome summer, joining several projects. Keep an eye on their Instagram and Facebook to see what the duo is up to.