Vroom & Varossieau presents: Substances A duo exhibition by L'Atlas and Tanc
French artists L'Atlas and Tanc have been working side by side for more than 15 years, questioning
the link between reflection and realization in their works. For the first time, their collaborative works
will be shown in the Netherlands. Vroom & Varossieau Urban Contemporary Art in Amsterdam is
proud to announce their new exhibition: Substances. The exhibition will be held at the Vroom & Varossieau gallery in
Amsterdam and will run from the 1st of February 2018 until the 17th of March 2018.
About the artists

Jules Dedet Granel better known as L'Atlas was born in 1978 near Toulouse but he grew up in Paris.
Where he started street writing graffiti and tagging in 1991, inspired by emerging subcultures like
hip hop and rap. He then returned to Toulouse, to study Art History and Archeology. During his
studies he met Smail Bour Quaiba, a traditional calligraphist who invited him to spend three months
in Morocco learning classical calligraphy. This is where L'Atlas his love for calligraphy and ultimately
calligraffiti was born. He is well versed in "avant-garde" artistic concepts, the history of Calligraphy
and Philosophical and Theological readings. As an artist he devoutly applies his life principle of being
thoughtful with your actions while also surrendering to faith and chance. In his own unique way he
creates the perfect balance between Calligraphy and Optical Art on the canvas. When he works, he
reaches a state of meditation where spirit and hand respond to one another. His artworks aim to
appeal to people on an emotional level and call on us to embrace life and look at art and the city
from different perspectives.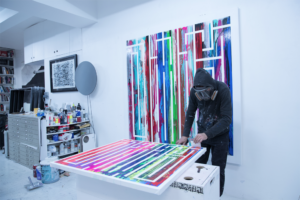 Tancrède Perrot aka Tanc is a Parisian artist born in 1979. His work is characterized by a very unique
style, that mixes a contemporary kind of abstract expressionism with a graffiti influence and
background. His exploration of the possibilities of the line allowed him to immediately stand out as
an artist amongst his peers. His work strives towards synthesis of his name, of tags, of individuals,
music and life. He does not seek perfection, but spontaneity. His creative process allows him to
carelessly give in to his mood, led by music, emotions and vibrations. Guided only by his inter
rhythm. When inspired, Tanc also obsessively and endlessly duplicate his process and style until total
exhaustion. Between contemplation and expression, his paintings sit somewhere between abstract
and figurative art.
Substances
Substances is the loud union of color and rigor, the encounter between two personalities, the
tempting alchemy of textures. Where one gives into randomness, the other embraces continuous
control. Despite the difference in technique and creative process, their universe gathers around "le
don de soi": the self sacrifice. Their collaboration is based on harmony and their artistic partnership
is one of total equality. They continues to find recognition of the one in the other, giving the viewer
a glimpse into their souls.
Amsterdam Street Art is looking forward to attend the duo exhibition  that is made by two great artists who have succesfully
proven themselves by showcasing a different approach to graffiti and streetart. A more in-depth review of the Substances
exhibiton will be up on www.amsterdamstreetart.com after the opening.