The last details have been put on the walls, the spray cans are empty, 10 amazing & big murals have arisen…If Walls Could Speak is a wrap! 
During If Walls Could Speak 10 international and nationally recognized artists used the Platanenweg as their canvas to create 10 stunning murals. 10 murals with 10 stories, all within the theme: Amsterdam for Everybody. After the If Walls Could Speak interviews with Kash & Chuck, Julieta XLF, Dopie, Studio Giftig, IVES.one, Sjembakkus and Beazarility and Smug it's time for…
Leon Keer
Dutch artist Leon Keer is known worldwide for his 3d art. He keeps exploring the possibilities to give his artworks an extra dimension. For If Walls Could Speak he created something we might all need in our life; a solution in case of lost childhood.
"I applied the theme Amsterdam for Everybody by adding a personal touch. I believe that if you don't lose contact with your inner child, you will stay free to unconditionally think what you think and do what you do. It stands at the base to welcome everyone the way they are without any preconception. The case might be that outsiders will see it as a metaphor for Amsterdam. That you can do and not do whatever you want and can be who you want to be."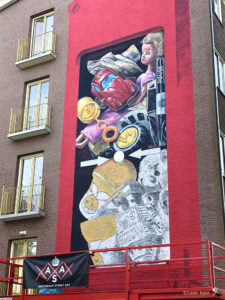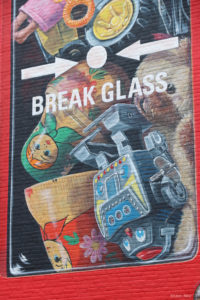 "If Walls Could Speak was a nice festival with an enthusiastic audience and good flow from the organization. The budget is usually a problem but I think the available recourses have been handled well. There was a great line up with a nice diversity of art styles."
"Even though I enjoyed the festival, for me personally the theme Amsterdam for Everybody doesn't say me that much. When I'm going out for diner in Amsterdam I'm rather ignored than being helped in a friendly way. Amsterdammers are proud of their city, but where Amsterdam used to be the precursor of having a free mind there are now more and more rules that seem to limit the free-thinking. So I couldn't really empathize with the sentence Amsterdam for Everybody on a personal scale. But of course, Amsterdam still stands for freedom and personal development for others."
"A group project like this is very nice to work with. Tips and tricks are shared and you get to know like-minded people better. For the spectator, it's amazing to walk a route within a short distance and see so many artworks, in this way everyone can choose their own favorite to enclose in their hart."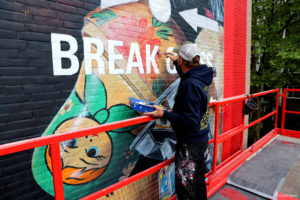 "For me, it's important to involve the public in your work. I create interaction with my 3d paintings, it invites to pose next to or on the artwork. The extra technology that I use, like augmented reality, even adds some extra interaction. On your screen, you can see the artwork coming to life and you can also make something happen by tapping your screen. I get my inspiration from the surroundings. Everyone has a story. Story of life."
"In case of lost childhood, break glass"
Thank you for joining If Walls Could Speak, Leon. Want to see more of Leon Keer's work? Make sure to follow him on Instagram, Facebook and Youtube.