Last month we finalized the second part of the "Kantje Pikken" project in IJmuiden. We proudly show you the result of these new murals made by artists Karski & Beyond and SMATES.
Last year artist duo Bier en Brood already made two spectaculair painting in the harbor area of IJmuiden. For this second part we worked with Karski and Beyond and with SMATES from Belgium. All murals are made in commission of the municipally of Velsen. From a well described brief from the art committee of Velsen, we curated and presented artist portfolio's matching the brief. From this portfolio list the art committee and the municipally of Velsen has chosen the artist to execute their sketch.
The art committee of Velsen selected the walls and even knowing that IJmuiden got a lot of grey empty warehouse walls it was a pretty big hassle to convince the property owners to let these well known artists create something spectaculair on their wall. Luckily they found another very cool wall on the route to the sea at the Ohmstraat. Check out the result of artist SMATES below.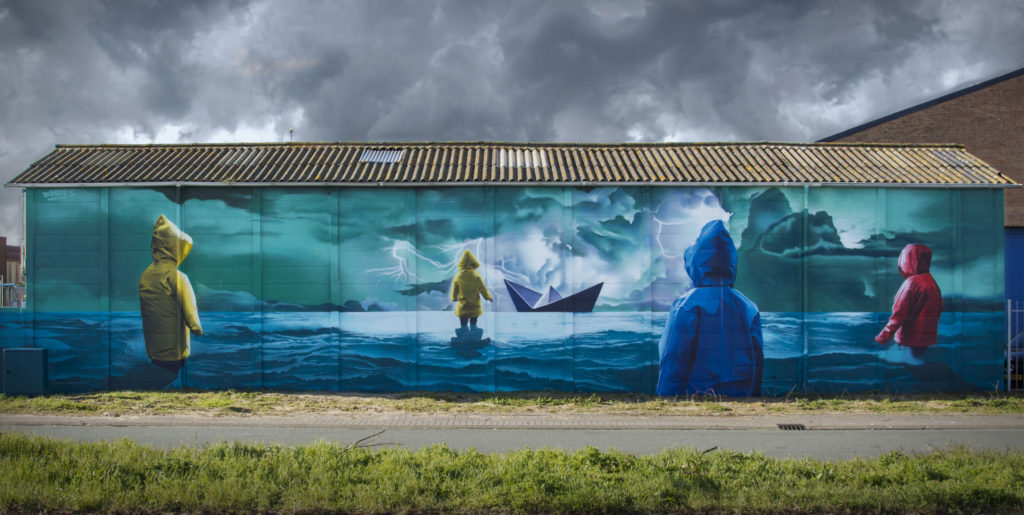 For the project "Kantje Pikken" we have worked with the local paint factory / supplier RIGO Verffabriek, Lifts from Cornelissen B.V. Timmerbedrijf Jonkman who trusted us to create something stunning on his wall. L'amuse for using their storage room and giving us the possibility to have some nice food and coffee. Special shout out to Sige Bart who's originally proposed this initiative to the municipally of Velsen.
For those who never heard about IJmuiden…

Visit their beach, walk around the harbour, eat some fresh fish and enjoy these new colorful artworks.
Company: Gemeente Velsen
Category: Local Mural project
Mission: Create a stunning Street Art route from the harbour to the dock
Skills used: Organization, production, curation, photography
Please fill in the form below if you would like to have more information or if you would like to work with Amsterdam Street Art.
For ASA and the more than 400 connected artists, it's a welcoming challenge to collaborate in a creative way. This is possible to achieve in several ways but always includes a cross-over between multiply targets, groups and interests. ASA's role is to connect the most suitable artists to the assignment and to take care of the required inspiration, knowledge, facilities and project management to achieve the desired result.