Last year I headed out to the Midwest, Peoria Illinois to be exact, and I heard some rumors floating around that Alec DeJesus was working on some sketches for a mural he would be creating in Florida. Needless to say, I was excited because every time I visit, Alec is working on something bigger and better and it doesn't go unnoticed. Sadly I couldn't stick around to see the wall coming to life but Alec was more than happy to share his story, the meaning behind it and how a small reunion took place.

They made their own wings; the made their own way, could you explain us the story behind this poetic title?
The concept behind this mural is the idea that you can use whatever gifts, passions, and talents you have and use them to take you towards a better life. Those can be used as the "wings" you make for yourself to find your way.
How close does this mural hit home for you?
The meaning is personal to me because my beginnings in life were rough and less than humble. I grew up poor and moved around all the time due to evictions. My plot in life probably wasn't going to be a good one and I was heading down a dark path so I had to grow up strong in order to make something of myself. As a child, I always used art as a way to escape a hard life and dark times. Thus began me building my own wings. Art eventually went from being an escape, to become my passion and chosen profession. I made a way for myself using art and attained a life far beyond my original means.

How did you end up with a wall in Florida as someone from the Midwest?
The beauty of bringing this whole project to life was that I got to work with my former studio mate and best friend John Selburg and his art students. He got me the mural gig because he believed in my abilities and my message.
Could u tell us more about the process?
Upon seeing the wall I knew it was going to be a grand undertaking but with the help of some inspired students coming from all sorts of backgrounds, the mural was accomplished in 4 days and was one of the best experiences of my life. While working on this I was given the opportunity to speak with many of the classes and share part of my story and vision.
What was the most rewarding part of this mural for you?
The most rewarding part of that was seeing the inspiration in the eyes of the students. Most of them were doing exactly what I was doing and I could see the spark of inspiration in their eyes. The fact is, in this school a majority of the student body was immigrants or 1st generation Americans, who had all come from a rough start in life but were chasing a better future. Knowing that my art showed not only myself but the students that you can make it no matter where you come from was beyond the most powerful part of the project and I'm looking forward to doing another one next week.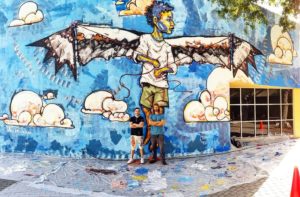 Stay tuned at Amsterdam Street Art for Alec DeJesus his next mural and the latest street-art news. Want to paint outside but it's too cold? Don't worry, check out the ASA Crew hoodie that is in store now!.