The last details have been put on the walls, the spray cans are empty, 10 amazing & big murals have arisen…If Walls Could Speak is a wrap! 
During If Walls Could Speak 10 international and nationally recognised artists used the Platanenweg as their canvas to create 10 stunning murals. 10 murals with 10 stories, all within the theme: Amsterdam for Everybody. After the If Walls Could Speak interviews with Kash & Chuck, Julieta XLF, Dopie, Studio Giftig and IVES.one, Sjembakkus and Beazarility it's time for…
Smug
Artist Smug is certainly no stranger to a lot of people. The Australian who has been living in Scotland for some time now is known for his semi-realistic work. During If Walls Could Speak, whoever passed by was amazed how flawless, precisely and skillfully the artist works.
Hi Smug, you have been with us here in Amsterdam for If Walls Could Speak, how have you found the experience?
"It's been great. We realised when I arrived that although I've been to Amsterdam many times this was actually the first time I've painted here, so it has been great to finally leave my mark."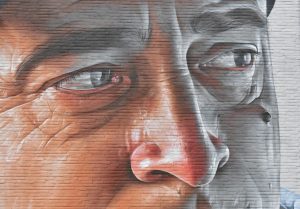 The theme of the festival is 'Amsterdam for Everybody', what does that mean to you?
"I think the theme is very appropriate for what it is what we do, as murals and all public art truly is for everyone to enjoy."
How did you incorporate the theme into your mural?
"Being a semi-realistic painter I've painted a portrait of a man I know. I like to celebrate the every day hero. Not the most famous or the most beautiful but just that man or woman that you might pass in the street. Just as my artwork is for everyone, so is my subject matter."
(text continues below images)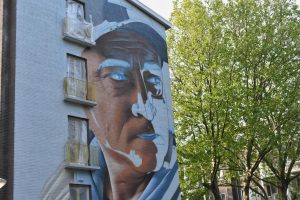 Do you prefer working in a theme like this or freestyling as such?
"Occasionally I like a loose theme to guide me."
All 10 walls are in very close proximity. Do you enjoy working in such a close-knit festival surrounded by other artists?
"Its always good to be surrounded by like-minded artists and this crowd were all great."
What's next for you?
"I've got a busy year ahead of me, but just the usual mix of murals, canvases, travels and weeding my veggie patch."
Thanks Smug! Follow Smug on his Instagram to see his latest works.